Mother Meera Free Boarding School
in Madanapalle, Andhra Pradesh
for Classes 6th, 7th, 8th, 9th and 10th Standard
Application Form
The School
Attendants welcome
Contact us
Pictures
More about Mother Meera
Admissions
Mother Meera Free Boarding School offers a number of scholarships (free education and boarding) for both male and female students in classes 8th and 9th Standard.
Applications
for the academic year 2021-2022 are being accepted now until June 30.
The number of students accepted for free scholarships is limited.
The school term begins on June 12.
Application Form
To apply please copy&paste the following list of questions and email it together with your answers to:



Also enclose a current passport-like photo of yourself with the email.
- - - - - - - - s t a r t c o p y - - - - - - - - -
STUDENT'S PERSONAL INFORMATION (Use BLOCK LETTERS)
1) Class to which admission is sought (6–10):
2) Name:
3) Date of Birth (dd-mm-yyyy):
4) Gender (female/male):
5) Address:
6) Blood Group:
7) Aadhar Card Number:
8) Mobile Number:
9) Email:
10) Level of your English (poor/medium/good):
11) Mother's Info
- Name:
- Address:
- Mobile Number:
- Occupation:
12) Father's Info
- Name:
- Address:
- Mobile Number:
- Occupation:
13) Present School Name and Address:
- - - - - - - - e n d c o p y - - - - - - - - -

The School
The main school building (left) and the computer lab (right):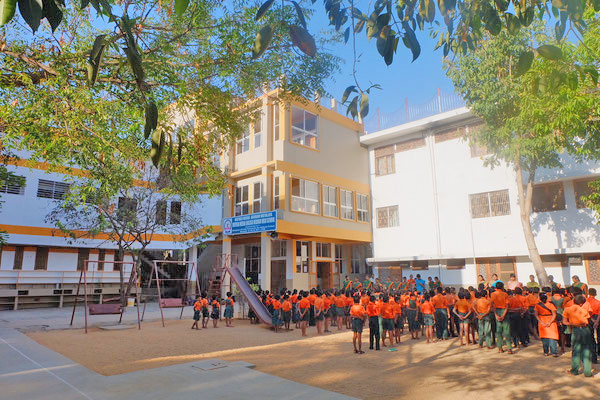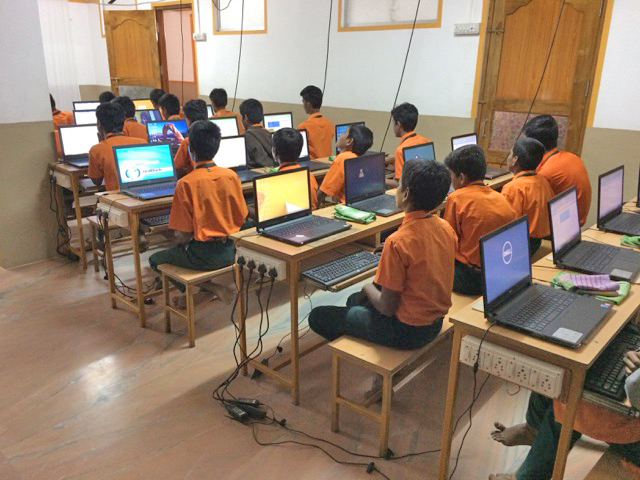 MOTHER MEERA'S VISION FOR THE SCHOOL

Mother Meera's Vision is to give Indian children a high standard of education in a school managed and structured by western standards.

TEACHING AND MANAGEMENT – structured by Western standards
VOLUNTEERS – help keeping the school running smoothly
A CHILD-CENTERED LEARNING APPROACH, such as Montessori, is envisioned
Classes range from Baby Class to 10th Standard (3-16 years)
More than 1000 students are registered at the main school.
The main school has 48 classrooms, including Computer and Audio Visual rooms, a Science Lab, rooms with digital teaching aids, and a Library. It also has WiFi.
About 100 people are employed in the school.
Along with the academic education, many periods of prayer and silent meditation are merged into the daily school routine: before school begin; at breaks and lunch time; before and after classes; and in the afternoon. Local religions are beautifully reflected in the School's students and teachers, all united peacefully under Mother Meera's protective umbrella. The Western volunteers add yet another dimension, making THE MOTHER MEERA SCHOOL AN INTERNATIONAL ADVENTURE INTO THE SELF.

"I WANT PEOPLE TO BE STRONG, SELF-RELIANT,
UNSELFISH AND TO CONTRIBUTE TO THE WORLD
WITH WHATEVER SKILLS AND GIFTS THEY HAVE.
I WANT THEM TO WORK.
OLD SEPARATIONS BETWEEN HOLY AND
UNHOLY ARE NOT TRUE ANYMORE."
– Mother Meera: Answers, Part I
Attendants welcome
Positions are also open for female or male Indian volunteers as attendants or caretakers, who help daily in taking care of the children. These volunteer positions give free food and lodging.


Mother Meera Ashram Vidyalaya
Paramatma Dari
Madanapalle 517325, Chittoor Distr., A.P.
India

Send an email to:


Pictures
Areal view of the main school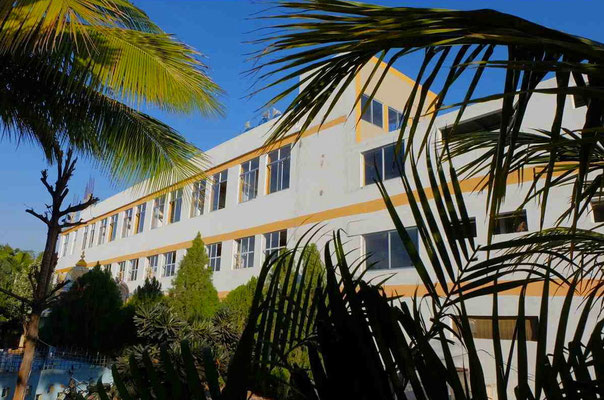 Back of the main school building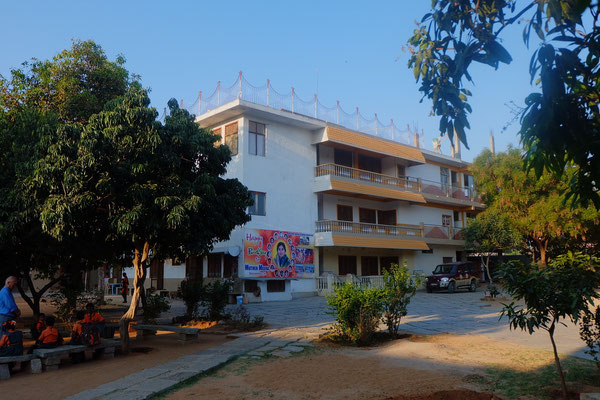 Residential Building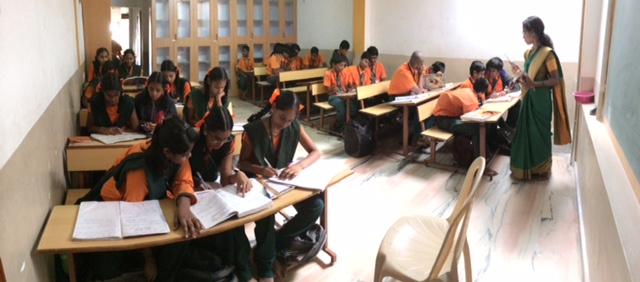 Class 8 students at work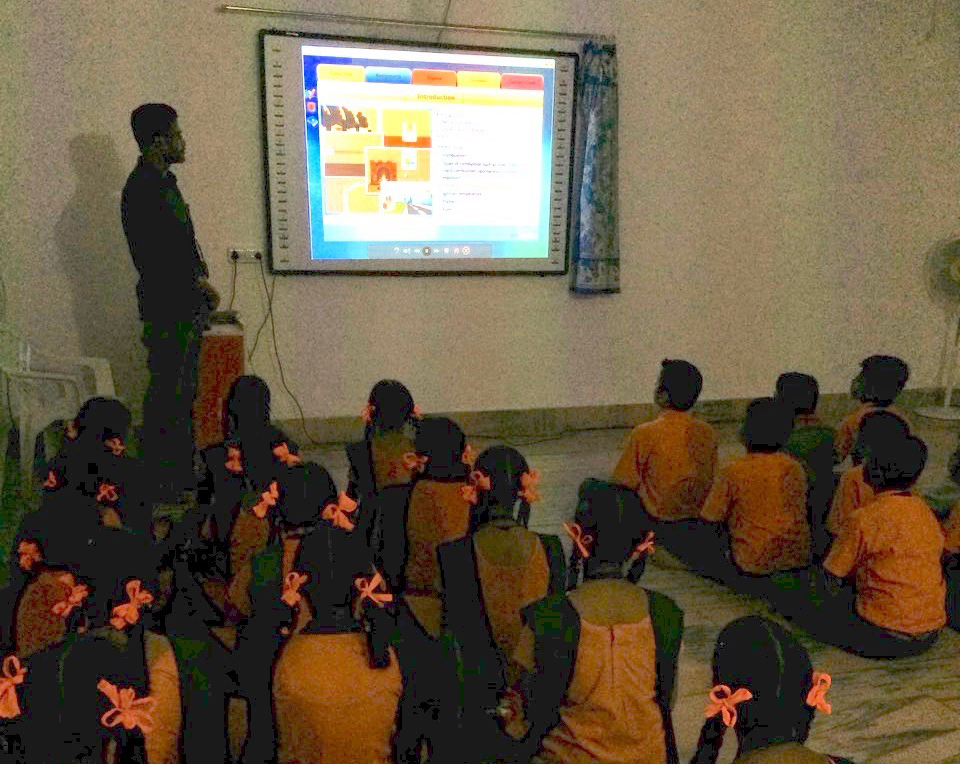 Audio Visual Room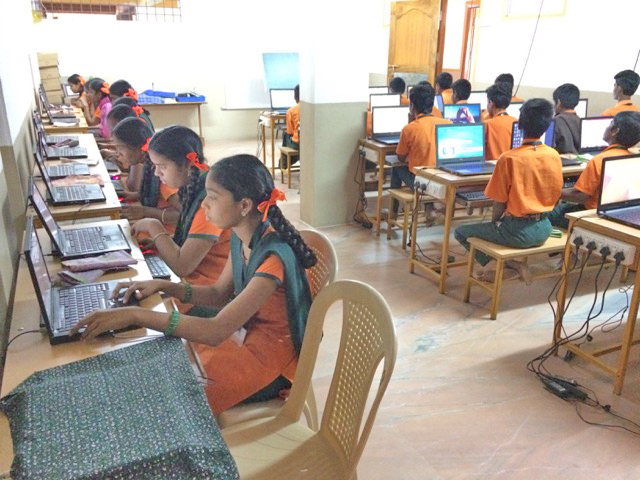 Computer lab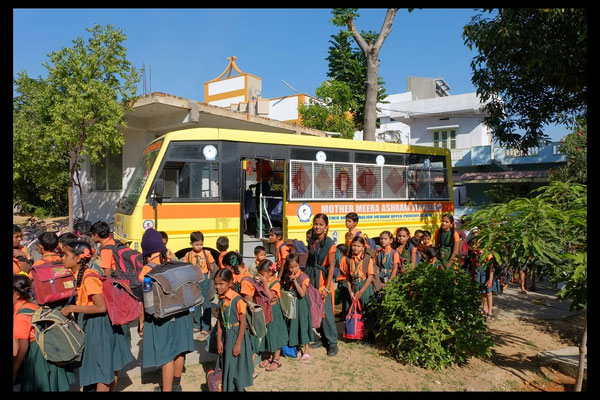 Students arriving for morning class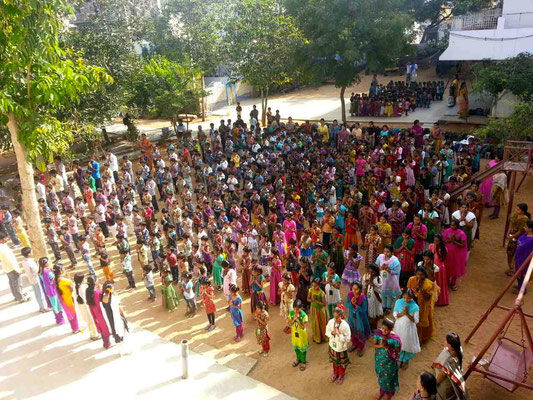 Morning prayer on Saturday

Meditation is conducted daily in the schools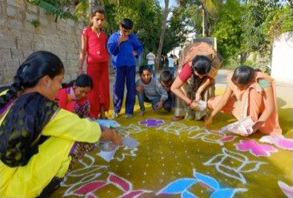 Preparing for festivities